Welcome to Canham Farm Horse Rescue – Scotts Valley
A Horse Rescue, Rehabilitation, Re-training Center & Temporary Sanctuary for all Horses in Need.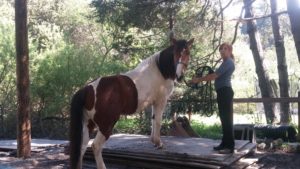 Canham Farm Horse Rescue is not your typical Horse Rescue or Horse Rehabilitation Facility. We not only work with pregnant mares, foals, abused, neglected and slaughter-bound horses, but we rehabilitate, train and endeavor to re-home all horses in our care, as well as educate humans to interact with horses in a way that will benefit both horse and human.
Watch Our Video Coaching Jericho to Free Lunge Without a Round Pen
Canham Farm Horse Rescue believes that all horses deserve a future, and by building trust, re-educating, retraining and understanding, they can be re-homed to suitable people and have a long, happy and useful life.
Canham Farm Horse Rescue Exists:
To retrain horses to have a useful and respected life
To ensure the horse is matched correctly with his or her new sponsor/owner.
To give ongoing support and advice on all aspects of equine care and re-settlement.
To support and commit to the welfare of all horses
To provide education and training courses for people wanting to learn about keeping, training and rehabilitating horses
Educating People to Interact Successfully With Horses
Horses can be complicated and confusing. There are so many things to learn and remember, and so much often conflicting information available, that it can be difficult to know where to turn. We are here to help and would far prefer an owner to ask if they are not sure about something. This could be anything, from knowing how to help a new horse settle in, to admitting that you're struggling to cope.