Welcome to our horse adoption page! Thank you for considering adopting instead of buying. When you adopt from us, not only are you offering a horse who may have had a poor start in life a loving home, but you free up space at our small horse rescue center for more horses or ponies in need. We couldn't continue our work without people like you! We work with other local horse rescue facilities so some of the horses below may not be housed at our Canham Farm Horse Rescue, Rehabilitation and Horse Training Center.
The below horses and ponies are currently available for adoption. If you can't find a suitable horse or pony on our website you are very welcome to contact us on 831-588-5198.
Feral Mustang Fillies age 6 & 8 Months (approx)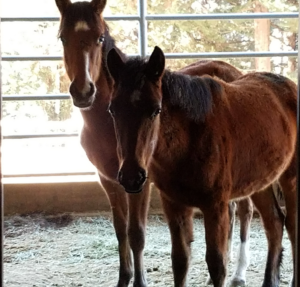 These gorgeous, un-handled feral mustang fillies were bound for slaughter.
We stepped in to save them and are working with them to get them used to being handled and comfortable with humans around. We would like these two to be adopted as a pair if possible. The sky is the limit with these two beautiful babies.
These fillies are not yet halter trained but we anticipate they will be soon. They are very curious and are slowly approaching us. Time and patience is working.
To enquire about adopting these fillies please contact us today!
Please note: Potential adoptees must have experience bringing up babies.
You can also Virtually Adopt these Fillies by visiting our Virtual Horse Adoption Page.
---
Dakota. 6-8 year old Paint Mare – Great for Trail Riding (
Adopted

)

Looking for a steady trail horse? Then Dakota is your girl. More whoa than go, she is the perfect horse if you are looking to hit the trails.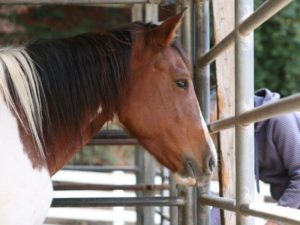 She also does arena work but seems to enjoy the trails more.
She has been rehabilitated (originally came from a Texas Feedlot) and I have yet to see her spook at anything except a squirrel. And then it was just a little hop.
Ridden bitless and bareback. I believe she would prefer an adult adopter who can take on the trails frequently as she is the kind of horse that likes to be out and about.
She stands approximately 15 hands. According to the Vet she is approximately 8 years old. She's stocky and sturdy. Goes Barefoot. Can be a little cinchy when in heat. Up to date on feet, teeth, chiro etc. No health issues whatsoever.
Potential adopter must meet and ride Dakota with instruction at least 3 times before adoption can go ahead.
---
YaYa! a 2 (Going on) 3 Year old Arab/Paint Gelding.(Adopted)
Looking for a young horse to be your forever horse? YaYa is your boy. He was saved from the kill pen before going off to slaughter. I can honestly say, it's rare to find a horse like this. He's laid back, friendly, loves people, always willing and more. He halters, leads beautifully, takes having his feet done in his stride. Barefoot. Happy with a bareback pad on. Stops at gates, opens and closes gates and is very playful. Trailers fine. No health issues. He was gelded by us when he arrived Fallon Kill Pen. This horse has huge potential. We believe he is still growing and with likely reach 15-15.2 hands if not more.
ZiZi – Bay Mare Approximately 8 years old – Available for Sponsorship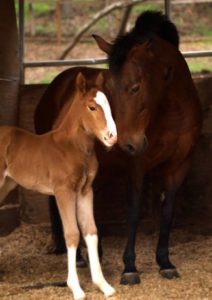 Zizi looks to be a Connemara pony. She was a confiscation from an abuse case. Zizi finds it hard to trust humans, and it's my belief that she had been treated badly in the past. She can be very nervous but we are working with her. Our chiropractor adjusted her recently and found her poll to be out. She has likely had a headache and eyesight problems for a while. We are hoping this adjustment will help with her nervousness. ZiZi halters, leads, loads, picks up her feetand has been under saddle in the past. She is approx. 8-years-old. Please call Julia at 831-588-5198 or contact us about sponsoring ZiZi's continued training.