Triple B Roundup Staticics -1389 Wild Horses Captured. 28 Dead
The Triple B roundup just completed last month; 1389 wild horses were captured and 28 died. A fertility control application that would have allowed around 500 wild horses to return home was cancelled, abruptly, by BLM with no court ruling, no change in law, no public input. The issues run much deeper than the 28 deaths. Politics rule our western ranges. Politics are destroying our western landscape and threaten our wild horses.
http://bit.ly/2DlOy9P
Wild Horses From California Rangelands Available for Adoption in King City, CA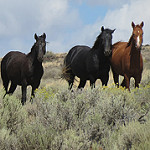 KING CITY, Calif. – Wild horses and burros from western public rangelands will be available for public adoption, Saturday and Sunday, April 7 and 8, at the Salinas Valley Fairgrounds, 625 Division St., in King City.  The Bureau of Land Management will offer 15 wild horses, all under 5-years-old, 10 gelding burros and 10 female burros.
Anyone interested can preview the animals from 3 to 5 p.m. Friday, April 6, and from 7 to 9 a.m. Saturday, April 7.  An auction begins at 9 a.m. Saturday, with bid prices starting at $125 per animal.  Horses and burros not taken during the auction will be available on a first-come, first-served basis until 5 p.m. Saturday and from 7 to 11 a.m. Sunday.  The adoption fee is $125. Learn more at BLM California Wild Horses
ZiZi, an Abused and Neglected Horse Discovers Her Purpose in Life
Once in a while an abused, neglected, "scared of people" horse discovers the reason they were saved. Meet ZiZi. She has taken on the role of mother to the rescued baby mustangs, Cheyenne and Maya. It just goes to show, much like every human, every horse has a purpose. It just takes a while to find out what that purpose is.
November 2017
New rules will come into force next year in a bid to clamp down on abuse of animals in the U.K.
May 25th 2015
President Donald Trump's budget proposal calls for saving $10 million next year by selling wild horses captured throughout the West without the current requirement that buyers guarantee the animals won't be resold for slaughter.
Fake Carmel, CA Horse Rescue Veteran Charity Scammed Donors, AG says
April 19th 2017.
We have no words for people who use horse rescues for personal gain – $720,000 plus spent to pay off credit card fees and more.
From their website: http://www.centralcoastequine.com/
"We offer therapeutic riding opportunities to veterans who have suffered traumatic brain injuries, amputations, post-traumatic brain injuries, and other sever disabilities. We seek to help as many physically and mentally injured veterans as possible."
---
Horse Abuse? What do You Think?
I've never been a fan of "laying horses down" as I fail to see the point. People say it develops trust but the day I see horse lay down another horse I will not be convinced. So when I was sent this video I was horrified. This horse is not trusting its handler, looks scared and is not at all enjoying this experience. Horse Abuse? I think so. What do you think? Contact us with your thoughts.
https://www.youtube.com/watch?v=oH3FhL0vuBg
By the way, I have no idea who this is – probably someone who calls themselves a horse trainer. I love the text that goes with the video "Do not try this at home." Unbelievable!