Can You Help Us Renovate Our Rescue?
Help Spruce Up Our Stalls and Our Horses Will Spruce Up Your Walls!
We need your help because, although we hate to admit it, our horse rescue facility is starting to look a little rundown. The stalls need a new coat of paint. The rubber mats need replacing as they are beginning to fall apart and are a potential hazard to our horses.
Horses like Lola who has worked her whole life in the service of humans. But, because of the hard work Lola has done over the years, she has developed arthritis and needs to be on medication every day to help with pain.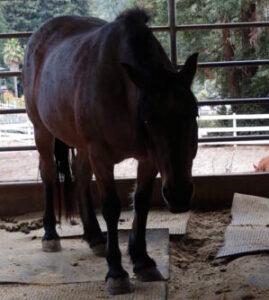 So here's what we're thinking…If you can find it in your heart to help us raise enough money to purchase rubber stall mats ($55 each) and a few gallons of paint ($55 each) our rescued horses will reciprocate by painting a unique picture just for YOU!
YES! our rescue horses can paint and their artwork will soon be featured hanging on the wall of several local businesses
Donating is Easy!
Just complete the donation form below and for Just a $55 Gift we will send you one of the unique pictures painted by our special rescued horses! Check out a Few Samples Below!