Canham Farm Horse Rescue Horsemanship and Groundwork Classes and Beginner Horse Riding Lessons – Children Welcome!
Do you want to learn about horses and their behavior? Are you a beginner rider? Or have you just purchased or adopted a horse and are struggling to cope?
If the answer to any of the above questions is Yes, then Canham Farm Horse Rescue can help. Our Beginner Rider Horsemanship Program is an entry-level class for children and adults, who have little or no experience with horses, horsemanship or groundwork.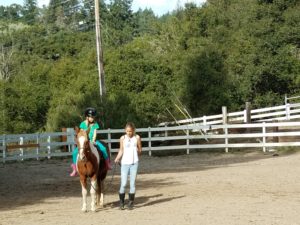 These classes aim to help you get to know horses better through understanding their behavior, and learning to read their body language, as well as understanding how your body language effects them. All proceeds from our horsemanship classes go to our rescue horses.
The Beginner Horsemanship Classes Include:
Safety on the ground
Groundwork for beginners
How to read and understand horse behavior
How to use your body language to communicate with a horse
Confidence building for horse and handler
How to develop a soft and authentic communication on the ground
Solving common problems, you might encounter with a horse
How to develop feel, timing and balance with your horse
How to become a better leader from your horse's perspective
How to create a solid connection with your horse
If you'd like to learn more about our beginner horsemanship classes, horse back riding lessons or reserve your spot, please contact us today!
Suggested Donation – Individual Class = $50 per hour
Suggested Donation – 2 Person Class  = $40 per hour
Call Now to Schedule Your Class – 831-588-5198