American Wild Horses Are Under Threat From Big Agriculture, The Bureau of Land Management, Oil and Gas Companies, Special Interest Groups, Such as Protect the Harvest, Politicians and Government Entities.
Only We, The American Public, Can Save Them
Wild Horse Management is a complex problem in the United States. The Bureau of Land Management (BLMWHB) is charged with managing and protecting this icon of the American West. Unfortunately, special interest groups, Big Oil, Big Agriculture, Politicians, Ranchers and Lucas Oil and their Non-Profit Protect the Harvest among others are working toward eliminating Wild Horses and Wild Animals from our Western Rangelands.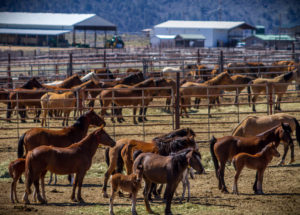 This page will hopefully promote the facts on the slow removal of one of America's great Living Legends, the American Wild Horse Herds and Mustangs.
Please begin your journey toward understanding how this came about and how this should and can be stopped by beginning at the beginning of this horrific tale of inhumane treatment of animals, how the BLM captures wild horses on a regular basis and keeps the "un-adoptable horses" in cramped holding pens often run by non-government agencies. Many of these horses are 10 years or older yet still have another 10 -15 years of life left. Free no more, most stay in these Long Term Holding Facilities until the day they die instead of living out their lives on the American West's Range Lands where they belong.
---
Suggested Reading That Will Help You Understand How All this Came About!
In the interests of disclosure ALL Book Links are Affiliate Links and Your Purchase Through Us Will Provide Us a Little Extra Money to Help Our Cause.
THANK YOU AL SO MUCH FOR YOUR SUPPORT! JUST CLICK ON THE LINKS BELOW TO ORDER!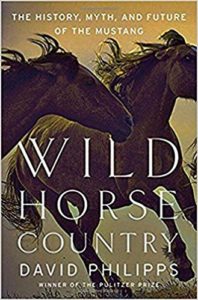 A Pulitzer Prize–winning reporter's history of wild horses in America―and an eye-opening story of their treatment in our own time.
The wild horse is so ingrained in the American imagination that even those who have never seen one know what it stands for: fierce independence, unbridled freedom, the bedrock ideals of the nation. From car ads to high school mascots, the wild horse―popularly known as the mustang―is the enduring icon of America. But in modern times it has become entangled in controversy and bureaucracy, and now its future is in question. In Wild Horse Country, New York Times reporter David Philipps traces the rich history of wild horses in America and investigates the shocking dilemma they face in our own time.