Join Us for a Relaxing Yoga Program and Meet Our Rescue Horses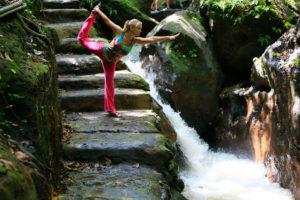 Come enjoy a slow-flow yoga class amidst the calming presence of our rescue horses (on leadlines nearby for the safety of all!). We will practice traditional yoga poses that stretch and relax the body, calm your mind and connect to your breath as you focus on the sights and sounds of nature around you.
Taught by Jessica Hernandez of Ease Mountain Yoga in Ben Lomond. Jessica has had the joy of teaching yoga to all ages since 2004, and is passionate about helping people connect to and feel good in their bodies. Yoga is facilitated self-care, which is so vital in our high-stress lives.
The class fee is $15 plus a $10 donation to Canham Farm Horse Rescues, Horses Helping Humans Program. Light refreshments and a horse meet and greet is included. Please bring your own yoga mat that you are OK getting a little sand on!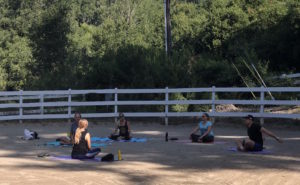 Please RSVP to let us know how many people to expect on each date.
Classes are held from 10 am to 11 am on the first and third Wednesday each month at:
Canham Farm Horse Rescue and Rehab, 333 Canham Road, Scotts Valley, CA 95066
To purchase tickets, please visit our Yoga with Horses Ticket Page
Please call us at 831-588-5198 for more information.