Welcome to our horse adoption page! Thank you for considering adopting instead of buying. When you adopt from us, not only are you offering a horse who may have had a poor start in life a loving home, but you free up space at our small horse rescue center for more horses or ponies in need. We couldn't continue our work without people like you! We work with other local horse rescue facilities so some of the horses below may not be housed at our Canham Farm Horse Rescue, Rehabilitation and Horse Training Center.
Click For Adoption Fee Information
The below horses and ponies are currently available for adoption. If you can't find a suitable horse or pony on our website you are very welcome to contact us on 831-588-5198 or send us an email.
---
Lola – The Neglected Senior Horse – $1000
Cielo the Mustang Colt  – Available for Pre-Adoption – $800 – Adopted
---
Miss Maya the Mustang – age 3 years approx. Adoption Fee: $1000
This gorgeous,  mustang filly (following ZiZi the pony) came from reservation land in Nevada and was, we believe, bound for slaughter.
We stepped in to save her and are working with her daily. She now pops her head in the halter, comes to a human, can be groomed, ties, leads on a long line, stops when you stop, ponies easily, happily wear a saddle, and has her feet trimmed. Maya loves to go on walks through the woods. She is confident in new situations and stays alert to her handler, she would be a wonderful trail horse.  A shy and sensible soul, Maya seems to want to please and tries hard to understand what her handler is asking of her.. She is smart too as most Mustangs are. The sky is the limit with this wonderful filly.
To enquire about adopting Maya please contact us today!
Please note: Potential adoptees must have experience bringing up young horses.
You can also Virtually Adopt Maya by visiting our Virtual Horse Adoption Page.
---
Harry Kane – 4 year old Palomino Gelding. Adoption Fee: $2000 (Adopted)
Oh, Harry Kane! For those of you who aren't aware, Harry Kane is (once again) an English soccer player. And, yes, he is playing in the World Cup. However, our Harry Kane is a gorgeous palomino 4 year old who came to us as an owner relinquish. He  leads, ties, trailers, does liberty work, does well with a saddle and loves to be groomed. We are focusing on groundwork right now but he will soon be ready for his first ride. Harry is available for virtual adoption or adoption depending on the adoptee's experience with young ones. Harry has recently had his first ride. and he tolerated it so well. He is still young and would need a person who has time to spend with him on a daily basis.

---
ZiZi – Bay Mare Approximately 8 years old – Available for Virtual Adoption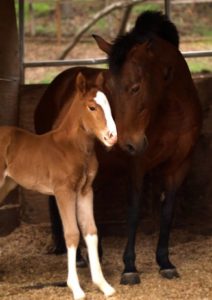 Zizi looks to be a Connemara pony. She was a confiscation from an abuse case. Zizi finds it hard to trust humans, and it's my belief that she had been treated badly in the past. She can be very nervous but we are working with her. Our chiropractor adjusted her recently and found her poll to be out. She has likely had a headache and eyesight problems for a while. We are hoping this adjustment will help with her nervousness. ZiZi halters, leads, loads, picks up her feet and has been under saddle in the past. She is approx. 10-years-old. Please call Julia at 831-588-5198 or contact us about sponsoring ZiZi's continued training.