Give a Better Life to Neglected & Abused Horses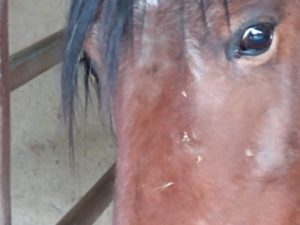 Want to help us give a better life to abused, neglected and captured American Wild Horses?  We are raising money to benefit Canham Farm Horse Rescue Inc. (a 501(c)(3) non-profit located in California) and any donation will help us change a horse's life for the better.
Challenge: To provide a safety net for wild and domestic horses that are at risk from neglect, abuse or slaughter.
What we do: Canham Farm Horse Rescue  is a horse rescue, training and educational facility dedicated to helping all horses in need with a special focus on wild horse rescue and advocacy  Whether horses or ponies who have been neglected and need a place to rehabilitate, those who are gifted to us by their owners who can no longer keep them,  or unwanted wild horses, we try to help as many horses as we can.
How we do it: We work with rescued horses, horse owners, communities, organizations, governments and advocate for wild horses to help improve welfare standards and stamp out equine suffering. We not only work with abandoned, abused, neglected or wild horses but aim to educate horse owners, provide re-training when needed and educate people to interact with horses in a way that benefits both horse and human.
$15 Feeds a Horse for 4 Days
$25 Provides Medication to Restore Health
$50 Gives a Horse 1 Week of Dry Bedding
$100 Feeds a Horse For 30 days
$250 Provides Veterinary Care
$500 Feeds a Horse, Buys Medication and Provides Training For 1 Horse
$2000 Provides for 1 horse From Intake to Adoption.
---
PLEASE USE THE SECURE WIDGET BELOW OR VISIT OUR: GIVELIVELY FUNDRAISING PAGE TO LEARN MORE.
Please show your support and donate today. You can also create your own fundraising page for our cause by checking the FUNDRAISING FOR THIS button on the link or widget below.
You can also text your donation by sending the code HELPHORSES TO 1-844-544-7171 to instantly receive a link to our donation page.
Thank you so much.
Previous Fundraisers
OUR NEWEST FUNDRAISER –  NOT ONLY FOR OUR OWN RESCUED HORSES BUT OTHER HORSES IN NEED!
Renowned Animal Artist is Donating a Pet Portrait for You to Help Raise Much Needed Funds.
You will receive a confirmation and thank you note from all of us at Canham Farm Horse Rescue
Animal Artist, Ellen Strack has kindly offered to help us raise money by donating an animal portrait for our Raffle. The Raffle is well underway, and for just $15 a ticket you get a chance to win one of Ellen's beautiful animal pictures – that she can paint from a photograph. Take a look at some of her beautiful portraits! Thank you so much, Ellen.
Raffle ends on May 1st. The winner will be drawn by an independent party (a local celebrity would be nice (hint, hint

Please consider buying ticket and get a change to win a unique portrait of your beloved pet whether they be Dogs, Cats, Horses and any other furry friends.
---

THANK YOU FOR PLAYING THE NAME GAME!AND THE WINNER IS…….
CFHR wants to thank everyone who contributed to names to our "Name Game Contest." Out of all the names submitted (see below) the fillies will be named (drum roll please)…….
MAYA AND SHYANN

. These two names came from none other than Mary Locke – a wonderful supporter of Canham Farm Horse Rescue. Thank you so much Mary!

Names Submitted:
Sierra and Savannah

Cocoa and Noel

Brandy and Bailey

Polly and Piper

Cloud Dancer & Wind Prancer

Dancer and Dasher

Ruby and Rosa

Peppermint and Ginger

Holly and Belle

Tess and Mariah – Rain and Wind from the Song "They Call the Wind Mariah"

Sonora and Lightning (from the movie Wild Hearts Can't be Broken)

Pixie and Ellie

Shayleigh and Rhiannon

Seneca and Sable

Clarabelle and Briar Rose

Freedom and Liberty

Mabelle and Honey

Mérida and Arwen

Marigold and Daisy

Maya & Shyann

Huniki (her) & Sholeta (daughter)

---
---