No Barn. No Land. No Horse Experience? You Can Still Adopt a Horse VIRTUALLY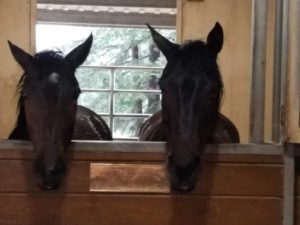 If circumstances don't make it possible for you to physically adopt a horse, you can still help by virtually adopting one of our rescue horses, especially one that has been abused, neglected, slaughter-bound horses or wild horses captured by the BLM Wild Horse Bureau and/or the U.S. Forest Service. With a Virtual Adoption you are offering a horse who may have had a poor start in life the chance to be rehabilitated and find a new home.
Rehabilitation can be a long and costly process, a Virtual Adoption, even as little as $20 a month (for a minimum of 12 months) helps us give them the special care, feed, rehabilitation and training they need.
How Do I Virtually Adopt a Horse?
Scroll down the page and choose a horse you would like to virtually adopt, then click "SUBSCRIBE". This will take you to our payment gateway. You will receive an email confirming your virtual adoption, and more information about your chosen horse. You also will receive:
A virtual adoption certificate
A framed picture of your adopted horse
You will also receive regular updates on how your horse is progressing
.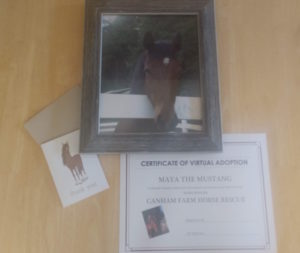 Example of Your Virtual Adoption Package
---
How Much Does it Cost?
You can virtually adopt a horse from Canham Farm Horse Rescue for as little as $20 per month annually.
What if my Chosen Horse is Re-Homed?
If your virtually adopted horse is re-homed or adopted we will notify you immediately and ask if you would like to virtually adopt another horse or, if not, cancel your payment.
The Horses Below are Currently Available for Virtual Adoption. If you can't find a suitable horse on this page you are welcome to contact us on 831-588-5198 or visit our contact page
Clara the Filly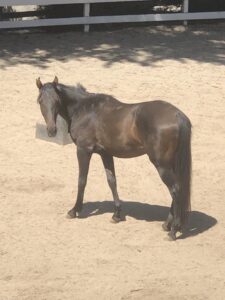 Hi, my name is Clara, I am a yearling filly. Not too much is known about my story. I was confiscated by Santa Clara Animal Services. I came to the rescue underweight and very unsure of humans. I am not halter trained and seem to not have had many positive interactions with humans. With all the loving care at the rescue I am putting on weight and learning to be interested in and trusting of people. I am a sweet girl at heart and they think I will come along quickly in my training now that I am getting daily care and attention.
Please virtually adopt me. Just click subscribe in the box below. Thank you!
---
Maya the Mustang Yearling
Rounded up from a reservation in Nevada, I am a Mustang almost 2-years-old (pictured on the right next to my now adopted friend Cheyenne). I am lucky to be alive. Untouched by human hands, and now at Canham Farm Horse Rescue in Scotts Valley, volunteers are working tirelessly to build my trust and eventually help me become a wonderful human companion. I am nervous and shy but I'm told I'm as cute as two buttons! Please virtually adopt me. Just click subscribe in the box below. Thank you!
My name is ZiZi.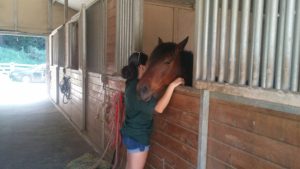 I am approximately 13.2 hands. I was confiscated from my original owner in Santa Clara County. I have had one foal, Cupid, who has been adopted. I was very jumpy and scared at times because I have some bad memories. I am available for virtual adoption so I can be cared for while I am being rehabilitated, re-trained. I am learning to trust humans again.
Please Virtually Adopt Me so I can Continue my Rehabilitation!
---
Well, hello everyone. My name is Sunset and I fancy myself as quite the comedian. I like to play tricks on Julia and the volunteers by turning on light switches, undoing stall doors, tipping up my grooming bin, and much, much, more. I'm pretty much a permanent resident here. Julia rides me and I get lots of attention. My best friend is Dirty Harry. I'm told I am an Arabian/Saddlebred cross, and that I am a registered half-Arabian. I don't really care about that. I just love to be fed, groomed and loved on. I'd like to be Virtually Adopted so I'll feel more loved than I already am!
---
The Wild One – Cleo
"I was rounded up from the Modoc National Forest in
California, I am a Wild One. I am about 9 or 10 year's old. I am quite nervous and scared at times but I am being fed and looked after and am learning that humans can be nice. Caring for me is expensive so if you would be interested in virtually adopting me I would appreciate it very much. Just click on the subscribe button. Thank you!
---
Wild One – Ruby Tuesday
I was rounded up by the National Forest Service along with Cleo. I'm a 10 year old mare and was pregnant at the time of my capture. I've found it hard to adjust to domestic life but I am slowly letting the humans pet me — I even let them get the tangles out of my mane. I have been working on trust in the round-pen and get fed lots of hay and a little grain. I don't like having my feet touched so need sedation when the farrier comes. Please virtually adopt me so Canham Farm can afford my care.
---
Lola
Hello! I'm Lola (it's my original name but it was changed to spare the people who neglected me from being known). I'm told I was only fed 2 flakes of grass a week and as such I am very skinny and need lots of food to help me put weight on. I used to be a lesson horse and gave little children rides but I got older and nobody wanted me anymore. I don't have any other health issues apart from being so skinny but as soon as I put weight on I'll be able to be ridden again. Won't you please virtually adopt me so I can have lots of food, get my teeth floated, have my feet trimmed and more. It will take a long time for me to recover but I know that, with your help, Canham Farm can help.