No Barn. No Land. No Horse Experience? You Can Still Sponsor a Horse VIRTUALLY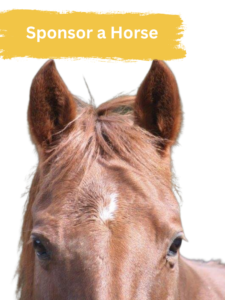 If circumstances don't make it possible for you to physically adopt a horse, you can still help by virtually adopting/sponsoring one of our rescue horses, especially one that has been abused, neglected, or a wild horse that have been captured by the BLM Wild Horse Bureau and/or the U.S. Forest Service.
With a Virtual Adoption you are offering a horse who may have had a poor start in life the chance to be rehabilitated and find a new home.
Rehabilitation can be a long and costly process, a Virtual Adoption or Horse Sponsorship helps us give them the special care, feed, rehabilitation and training they deserve.
How Do I Virtually Adopt a Horse?
Scroll down the page and choose a horse you would like to virtually adopt, then click "SUBSCRIBE". This will take you to our payment gateway. You will receive an email confirming your virtual adoption, and more information about your chosen horse. You also will receive:
A Picture of Your Virtually Adopted Horse

A Canham Farm Horse Rescue T-Shirt

And Perhaps Most Important Knowing that You Have Changed the Life of One Animal for the Better!
---
How Much Does it Cost?
You can virtually adopt a horse from Canham Farm Horse Rescue for as little as $20 per month or $200 annually.
What if my Chosen Horse is Re-Homed?
If your virtually adopted horse is re-homed or adopted we will notify you immediately and ask if you would like to virtually adopt another horse or, if not, cancel your payment.
The Horses Below are Currently Available for Virtual Adoption. If you can't find a suitable horse on this page you are welcome to contact us on 831-588-5198 or visit our contact page
Sêrif a New Owner Reliquished Mare Who is In Need of Some TLC
Sėrif is our latest rescue intake. She came to us as an owner relinquish and just a tad skinny. She also has/had stiffness in her neck and perhaps poll issues – we are waiting for the horse chiropractor to evaluate her. On her intake vet check it was discovered that although she is only 16 her teeth have been neglected and she is unable to chew hay properly. We have since put her on pelleted feed and she is starting to thrive. She is a little wary but is getting better every day. Here I am using the "Mirror Method" to try and encourage her to latch on to me.
Your May Also Like