No Barn. No Land. No Horse Experience? You Can Still Adopt a Horse VIRTUALLY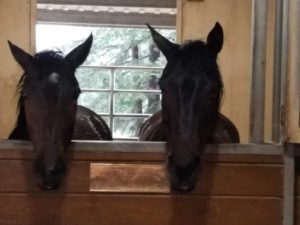 If circumstances don't make it possible for you to physically adopt a horse, you can still help by virtually adopting one of our rescue horses, especially one that has been abused, neglected, slaughter-bound horses or wild horses captured by the BLM Wild Horse Bureau and/or the U.S. Forest Service.  With a Virtual Adoption you are offering a horse who may have had a poor start in life the chance to be rehabilitated and find a new home.
Rehabilitation can be a long and costly process, a Virtual Adoption, even as little as $10 a month, helps us give them the special care, feed, rehabilitation and training they need.
How Do I Virtually Adopt a Horse?
Scroll down the page and choose a horse you would like to virtually adopt, then complete the virtual adoption form at the bottom of the page. You will receive an email confirming your virtual adoption, and more information about your chosen horse. You also will receive:
A virtual adoption certificate
A framed picture of your adopted horse
You will also receive regular updates on how your horse is progressing
.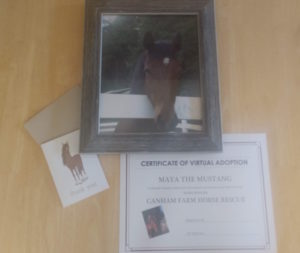 Example of Your Virtual Adoption Package
---
How Much Does it Cost?
You can virtually adopt a horse from Canham Farm Horse Rescue for as little as $10 per month.
What if my Chosen Horse is Re-Homed?
If your virtually adopted horse is re-homed or adopted we will notify you immediately and ask if you would like to virtually adopt another horse or, if not, cancel your payment.
The Horses Below are Currently Available for Virtual Adoption. If you can't find a suitable horse on this page you are welcome to contact us on 831-588-5198 or visit our contact page
Maya the Mustang Yearling
Rounded up from a reservation in Nevada, I am a Mustang yearling (pictured on the right next to my now adopted friend Cheyenne). I am lucky to be alive. Untouched by human hands, and now at Canham Farm Horse Rescue in Scotts Valley, volunteers are working tirelessly to build my trust and eventually help me become a wonderful human companion. I am nervous and shy but I'm told I'm  as cute as two buttons! Please virtually adopt me. Just scroll down the page and check the box Maya. 
---
My name is ZiZi. I am approximately 13.2 hands. I was confiscated from my original owner in Santa Clara County. I have had one foal, Cupid, who has been adopted. I am very jumpy and scared at times because I have some bad memories. I am available for virtual adoption so I can be cared for while I am being rehabilitated, re-trained. I am slowly learning to trust humans again. Please Virtually Adopt Me so I can Continue my Rehabilitation!
---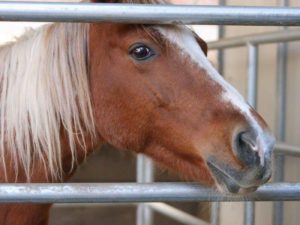 I am Lulu. I am approximately 10 years old and about 13.2 hands. I am really good with children and have even given rides to kids as young as 2 at birthday parties. I am quite sensitive and love to be groomed and loved on. Please consider virtually adopting me, or if you like you can come and visit me. I always love having children around. 
---
Well, hello everyone. My name is Sunset and I fancy myself as quite the comedian. I like to play tricks on Julia and the volunteers by turning on light switches, undoing stall doors, tipping up my grooming bin, and much, much, more. I'm pretty much a permanent resident here.  Julia rides me and I get lots of attention. My best friend is Lulu. I'm told I am an Arabian/Saddlebred cross, and that I am a registered half-Arabian. I don't really care about that.  I just love to be fed, groomed and loved on. I'd like to be Virtually Adopted so I'll feel more loved than I already am!
---
"My name is Harry, Harry Kane. I was relinquished by my previous owner and  spent my early years alone in a "junk yard" where I lived on my own. I don't quite understand how to get on with other horses yet but I am learning. I am pictured here with Whitney who takes care of me. She grooms me, feeds me and makes sure I am safe. I like to play with Sunset but sometimes he doesn't want to play with me. I am told I am a yearling, palomino quarter horse. If you would like to virtually adopt me, please scroll down the page and choose my name."
---
The Wild Ones – Cleo or Ruby Tuesday
"Rounded up from the Modoc National Forest in California, we are the Wild Ones. We are both about 9 or 10 year's old and one of us (the little Roan lying down) is most certainly pregnant. We are quite nervous and scared but we are being fed and looked after and are learning that humans can be nice. Caring for us is expensive so if you would be interested in virtually adopting one or both of us, we would appreciate it very much. Just scroll down and choose either Cleo or Ruby Tuesday."
---
Nicker, Nicker! My name is April Moon. April because I was born on April the 29th, 2019 and Moon because I was born on a Monday and I have a half-moon on my forehead. My Mom is Ruby Tuesday and she was rounded up by the U.S. Forest Service and was in danger of heading to Mexico for Slaughter. Luckily Canham Farm bought her for $1.00! My Mom is looking after me and so are all the volunteers at Canham. Soon I'll be old enough to go and run outside!
---
Cielo – Wild Horse Cleo's New Colt
"I am Cielo, a newborn colt. My Mom is Cleo who was captured by
the U.S. Forest Service while she was pregnant with me. If I had the choice I'm sure I would prefer to be a wild horse but I'm glad I'm safe from the 2019 wild horse roundups at California's Devil's Garden Plateau."
Waiting for PayPal...
Validating payment information...
Waiting for PayPal...