THEY ARE NOT JUST HORSES
They are Teachers, Best Friends, Therapists, Workers, Entertainers
#StepUpForHorses Campaign
#StepUpForHorses is a campaign to inspire people to promote the unique partnership between horses and humans, to help people understand they have an important role in society and to keep them safe from harm. Whether wild horses, equine athletes, companions, conservation grazers horses contribute to our lives, our culture and our economy. It is up to us to #StepUpForHorses and take full responsibility for their welfare, now and in the future.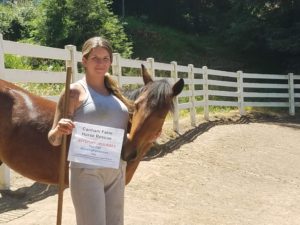 All it takes to join the #StepUpForHorses campaign is a $20 donation. Or any amount from major gifts to small gifts.  Every donation helps make a difference to a horses' future! All #StepUpForHorses participants will receive a #StepUpForHorses bracelet.
Alternatively, join our STEP UP FOR HORSES Facebook Group and Participate in our discussions.
COMPLETE THE FORM BELOW TO  BECOME ONE OF OUR STEP UP FOR HORSES HEROES
[qpp form="StepUpForHorses"]
How is Your Donation Spent
50 Percent of your #StepUpForHorses donation will be awarded to deserving Horse Charities with Wild Horse Charities given priority or will be chosen based on your recommendations and requests from the Charities themselves. The remaining donations will be used to advocate and educate people regarding wild horses, and help rescue abused, slaughter-bound and neglected horses, both domestic and wild.
Here's What Else You Can Do.
Help educate and inspire more horse lovers to #StepUpForHorses. "Like" and follow us social media — Facebook  and Twitter — and challenge  your friends to do the same. The more likes and followers we have, the more we can do to save America's iconic Wild Horses from roundups, death, sterilization and slaughter.
It's easy!
1. Download and print the #StepUpForHorses Sign.
2. Post your Photo with the sign on Your Social Media Page tagging #canhamhorserescue and #StepUpForHorses or email us your photo.
3. Ask your friends to do the same.
Step Up For Horses Recipients.
> 2018 – $1000 to Wild Horse Education – Advocates for Public Lands, Public Horses <